Skip to content
Skip to navigation menu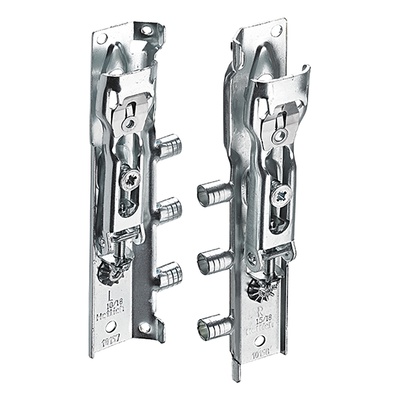 For use on the back of the rear panel
Integrated  lift off guard prevents the wall unit from accidentally coming off the wall
For rail fixing only
Load capacity: 55 kg / each in accordance with EN 15939 in test frame A
Attached to side panel with 3 side pins
and screwed down in the rear panel groove
Suitable for use with rear panel recess of 16 mm and over
Fast, convenient height adjustment at sturdy adjustment screw and gear: ± 8 mm
Depth adjustment: 25 mm max.
Side adjustment: ± 7.5 mm for rail fixing
Adjustment screws are protected from becoming unscrewed accidentally
Lift off height: 7.5 mm
Suitable for use with B, H or M type suspension rails
Galvanised steel - fully recyclable
MUST ALWAYS be screwed into the cabinet body side
Advice:
Please order SAH 216 cover caps separately
Information on load capacity of cabinet suspension brackets and on accessories
The following basic loading principles must be observed when using cabinet suspension brackets and accessories:
Both the furniture design and the quality of the furniture's material and production are beyond our control.
The quality and condition of wall materials are also beyond our control.
The suspension hooks we supply must be used with wall plugs and are intended for attachment to solid brick, solid sand lime brick, concrete or engineering brick. An 8 mm hole must be drilled into the wall, with the plastic wall plug being knocked in to leave it flush with the surface. The hook must be screwed into a depth that leaves at least 10 mm of its length projecting from the wall.
Commercial type special mounting elements must be used for attachment to other wall materials.
Dowels and screws must be matched to one another. Ordinary chipboard screws must not be used instead of wall plug screws.
Mounting suspension rails:
- with 2 special screws, ø 5.5 x 50 mm, at the level of each cabinet suspension bracket
- from a cabinet body width of 900 mm, an additional special screw, ø 5.5 x 50 mm, must be fitted at the centre on the back of each cabinet body (type A, type B and type H).
Add on elements, such as end shelves, must not be fitted without separate cabinet suspension bracket.
The cabinet maker / dealer is responsible for ensuring that the furniture which is placed on the market meets with the requirements of EN 14749.
Added to Your Shopping Cart
Technical details
| | |
| --- | --- |
| Load capacity kg | 55 kg |
| Mounting side | left and right |
| Removal protection | with integrated lift off guard |
| EAN | 4023149231919 |
| Order no. | 9277718 |
| PU | 25 |